An investment in a home water treatment system certainly has its costs. But to truly understand whether a home water softening/filtration solution is "worth it," one must explore the benefits, as well as the costs of inaction. For many, we know the pull of inertia here is strong. For example, some Houston residents might say: "Well, it hasn't killed me yet" or "it looks clear," or "it doesn't taste funny" and assume their water is perfectly healthy.
But the problem with that approach is that it ignores what you can't see, or what could be happening both to you and/or your home over a longer period of time as you use your water. With a free water quality analysis from us at Houston Water Solutions, you can learn the truth and make an informed decision as to your return on investment. To help you get started down the path, let's look at what the benefits of a home water treatment solution might be:
Removal of contaminants.
As we previously detailed in a blog post on the topic of "Do You Know What's In Your Water, Houston?" the municipality's water supply is filled with dangerous contaminants, including:
Coliform bacteria / E.coli
Copper / lead
Disinfectants / disinfectant by-products
Arsenic
Fluoride
Nitrates
In the article, we detailed the varying health problems that come from exposure to such contaminants over time, which might range from cancer to birth defects, to neurodevelopmental disorders and cardiovascular disease. Recently, the San Jacinto River basin was also found to contain traces of PFAS – a family of toxic chemicals that can cause severe health problems such as heart, liver, and kidney disease, cancer, strokes and any number of other issues.
In most cases, these contaminants can't be seen by the naked eye, which means that you won't be able to tell if you're ingesting water that might causing your health to fail over time. That's why you should try to remove any doubt with a free water quality analysis from us.
Softening of your water.
Houston and Texas in general are both known to have particularly hard water with its deposits of calcium and magnesium. Houston water has been measured at a level of 8 grams per gallon, which is considered "hard" (See chart below).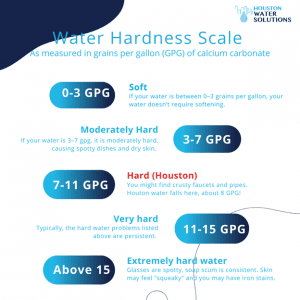 Hard water isn't dangerous to drink but it doesn't taste as good as softer water. Also, the big problem with hard water for most people involves the unsightly residue it leaves behind in sinks and drains and the everyday annoyances of wearing down appliances faster or, over time, clogging your pipes. It can shorten the life of your appliances over time by a third. Hence, with hard water, many see an uptick in many household costs, ranging from regularly purchasing more soap for scrubbing out limescale stains to buying new appliances to calling the plumber more often. You'll know hard water if you see the spotting of your dishes or glassware in particular.
Sustainability
One of the understated benefits of buying into a home water treatment solution is that you can help support the environment. After all, the quality of the water out of your tap becomes so much better and healthier that you don't need to buy bottled water or use plastic bottles. The average household can thus save anywhere from $800 to $1500 per year and use less plastic, which doesn't break down in the environment.
Better tasting water / confidence in your water.
Getting rid of contaminants and hard water particles will mean your water tastes better – and it will be healthier for you. For many households, the added confidence in their water has translated into them drinking more water, the benefits of which include helping you to:
Lose weight
Improve digestion
Keep your joints lubricated
Flush out the body's toxins
In other words, you'll stay fitter and healthier when you drink more water.
Long-term cost savings.
Over time, an investment in a home water treatment solution like the ones we offer at Houston Water Solutions will most certainly save you money. How? Your water-based appliances (washers, refrigerators, and dishwashers) will last up to a third longer. You'll buy less bottled water (as mentioned saving an average of $800 to $1500 per year). You'll lower gas and electric bills (because your appliances don't have to use as much energy). And, you'll need less soap to clean your body, your sinks or other areas that hard water affects.
Better skin and hair.
Hard water, in particular, can wreak havoc on your skin and hair, drying it out, and over time, potentially even causing skin irritation or damage, and coarsening your hair. With a water softening/water treatment solution, your hair becomes shinier and your skin softer and moisturized.
Conclusion
These are only a few of the many reasons why an investment in a water treatment solution makes sense for many Houston households. But you won't really be able to calculate the true benefits until you get a free water quality analysis from us. Why not get started today? It's no obligation and will give you the peace of mind when it comes to making a good decision for you and your family. We'll turn around the results for you quickly and let you know our recommendation for a system that fits your needs.